Durham
Select another area
Known locally for its minor league baseball team, universities, and industrial history, Durham is a thriving city in the Triangle area. Research Triangle Park, a technology hub for the Triangle, is only part of the city's regional appeal.
Selling Your Home in Durham?
Durham Stats
Populations in 2013: 245,475 (100% urban, 0% rural)
Population change since 2000: +31.2%
Males: 114,981 (46.8%)
Females: 130,494 (53.2%)
Median resident age: 32.1 years
North Carolina median age: 45.5 years

Zip codes: 27503, 27701, 27703, 27704, 27705, 27709, 27712
Estimated median household income in 2012: $49,332 (it was $41,160 in 2000)
North Carolina: $45,150
Local Attractions
Durham Bulls Athletic Park
Catch a game of baseball at the popular ballpark in downtown Durham, and be sure to stay for the fireworks. The 1988 film Bull Durham depicts the stadium and the Durham Bulls baseball team.
Bright Leaf Historic District
Durham's agricultural heritage is proudly displayed in the historic industrial buildings downtown, which have been revitalized and transformed into a thriving commercial hub known as Brightleaf Square.
Durham Top Picks
Places To Eat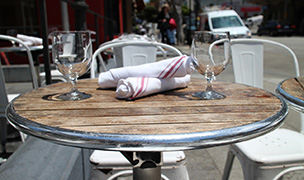 9th Street
Historic downtown buildings along US-70 host contemporary dining experiences such as Tijuana Flats, Blue Corn Cafe, and Cosmic Cantina.
Local Schools
Durham Public Schools
North Carolina's eighth largest school district operates 46 public schools in Durham that emphasize lifelong learning and student achievement.
Things To See
Festival for the Eno

Live bands, food trucks, crafts displays, and other activities showcase regional talent at the Eno River community celebration in Durham.
Neighborhoods
$125,000 - $450,000
Sq Ft: 1,300 - 3,500
$269,900 - $625,000
Sq Ft: 1,109 - 3,800