Copperleaf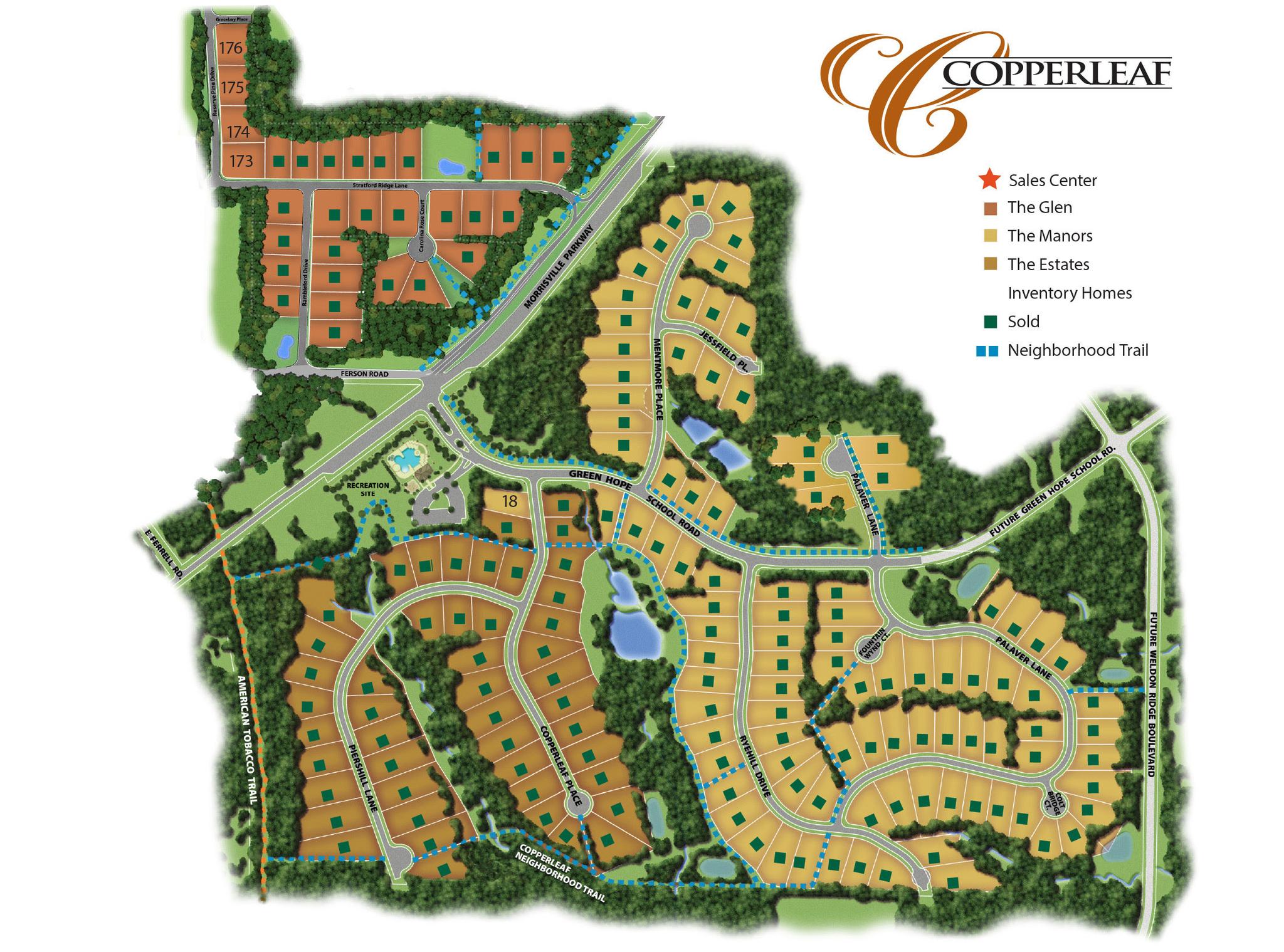 Copperleaf Pl
Cary, NC 27519
Price Range: $675,000 – $1,500,000
Homes for Sale in CopperLeaf by Price
CopperLeaf, Cary

CopperLeaf is Gorgeous! This community has plenty of space for you to enjoy life in one of the most sought after neighborhoods in Cary, NC. CopperLeaf homesites average 1/2 to 3/4 acre on some of the best land in Wake County. CopperLeaf also offers a community pool and pavilion, ponds, and trails that connect to the American Tobacco Trail and Cary's Greenway systems.
CopperLeaf Homes

Just ten miles west of downtown Cary is CopperLeaf. This is one of Cary's premier executive communities. It's close proximity to US1, US64, I40 and I540 allows residents to drive to Raleigh Durham International Airport (RDU) and Research Triangle Park (RTP) in 15 minutes. Cary is a short drive to nearby Jordan Lake and only 2.5 hrs to North Carolinas' pristine beaches or you can be in the Blue Ridge Mountains in about 3 hrs.
The CopperLeaf Builder Team is comprised of a select group of local, custom builders. CityScape Builders, Future Homes by Jim Thompson , Gray Line Builders, Reward Builders, Robuck Design Build and Woodard Builders. These builders are some of the finest in Wake County and they bring the best designs and workmanship to the neighborhood. All of them can build you a home that fits your lifestyle.
CopperLeaf was started in 2008 and is nearly complete. CopperLeaf has 176 executive style homes in this neighborhood typically sell anywhere from $675,000 to over $1.5 million. This neighborhood has been one of the most desirable luxury sites in Cary, NC. CopperLeaf Homes were built beginning in 2008. There are three sections of CopperLeaf: The Manors, The Estates and the Glen. The Manor homes range in price from the high $600,000s to the $900,000s. An Estate and the Glen homes ranges from $800,000 to over a million. CopperLeaf homes are designed around well developed trees and green space to give a feeling privacy and nature. They all have exquisite yards and stunning curb appeal.
CopperLeaf Amenities

CopperLeaf is surrounded by green space. The trails provide miles of bike riding and trails for your enjoyment. It is a great place for a still with the dog or some strenuous exercise that you can easily access from just walking out of your door.
CopperLeaf's pool is over 5000 square feet and has slides and splash areas for the kids to enjoy. There are showers in the Pavilion and plenty of room of changing. There is also a nearby playground for the kids. There are also neighborhood ponds for your enjoyment.
CopperLeaf Location

In addition to being about 15 minutes to RDU and the RTP, a five minute drive to I540 offers access to all areas of Wake Co. and beyond. The neighborhood is just a short drive to groceries, grab a coffee or lunch and there are endless options a short drive away as well.
CopperLeaf is convenient to countless options for recreation, shopping, restaurants, medical and business services, schools etc. The following are just some of the options adjacent to CopperLeaf:
• Harris Teeter, Whole Foods, Wal Mart Super Center, Trader Joes, Triangle Wine Co., Fresca Cafe and Gelato, Enrigo Italian Bistro, Tony's Oyster Bar, O'Charleys, TGI Fridays, Chick-Fil-A and more.
• There are also several banks, fitness centers, Wake Med Cary Hospital, Rex Healthcare of Cary and Rex Wellness Center all within a a few miles or less.
In under 30 minutes you can spend the day boating on Jordan Lake's 14K acres, multiple private and public golf courses or shopping at the Streets of Southpoint Mall. Some great day trips include the NC Zoo, any of North Carolinas wonderful beaches or a scenic drive on the Blue Ride Parkway. Here is sampling of things to do right here in Cary:
• Koka Booth Amphitheatre at Regency Park, Cary Arts Center, WakeMed Soccer Park which is home to the Carolina RailHawks professional soccer team, William B. Umstead State Park, USA Baseball National Training Complex, Thomas Brooks Park, Sk8 Cary Skate Park, Fred G. Bond Metropolitan Park, Hemlock Bluffs Nature Preserve and for some R&R check out the Umstead Hotel and Spa, a five start rated resort.
Cary Facts

Cary was first settled in 1749 as a small farming community and soon became a popular crossroads. Cary's economy began to grow with the expansion of the NC Railroad in the mid 1800's. Incorporated in 1871, Cary had an area of just one square mile. The early to mid 1900's brought electricity, paved roads, suburban planning and growth to Cary. It was the creation of the Research Triangle Park in 1959, that made a huge impact on the town and the population doubled by the 1960's. Cary grew by leaps and bounds in the 70's and 80's and began to to utilize Planned Unit Developments (PUD). The PUD model became so popular in Cary that 22 more were created between 1980 and 1992. This type of planning helped accommodate the towns rapid growth but retain it's small-town character. During this time, the town adopted several ordinances designed to preserve the look of down town and the areas green space. One such ordinance was the Land Dedication Ordinance which requires developers to set aside one acre of green space for every 35 housing units constructed.
Today, Cary has an estimated population of over 155K. Cary's original 1 sq. mile has expanded to 55.4 miles which makes Cary the seventh largest municipality in North Carolina. Located in north central North Carolina, just south-west of Raleigh. Cary is in the center of the state's 'Research Triangle' and provides easy access to Raleigh, Chapel Hill and Durham. Cary has long been considered a great place to raise a family with excellent schools and is repeatedly ranked among the top regions in the country to live, work, find a home, start a business, raise a family or retire.
Cary is part of the Wake County Public School System and home to about 26 public and 8 private schools. Cary's largest employers include SAS Institute, Fidelity Investments, Verizon and the American Airlines Reservation Center and Wake Med. Cary is also home to dozens of yearly art, music and cultural festivals, some of which have been calling Cary home for over 40 years.